December 13, 2008 at 8:10 AM by Dr. Drang
Back in August, I talked about the pluses and minuses of two voice recording apps for the iPhone, Recorder and QuickVoice. I've dropped both of them in favor of Griffin's iTalk.
iTalk comes in two versions, a free version that's ad-supported and a Premium version that costs $4.99. I went straight to the Premium version, so I can't tell you how annoying the ads in the free version might be. I went straight to Premium because I knew just from Griffin's description and screenshots that iTalk would be replacing QuickVoice on my iPhone.
Here are iTalk's advantages:
It syncs to any computer running Griffin's iTalk Sync application via wifi, and the recordings can be of any length. QuickVoice syncs via a similar application, but QuickVoice Sync must be run while your iPhone is connected to the computer through iTunes. As I've always had a fear of connecting my iPhone to any computer other than the one I sync to, this limits me to transferring recordings to only one computer. Recorder emails its recordings to you, which lets you send them anywhere, but limits the length of the recording to 2 minutes. This is the big win for iTalk.

iTalk has one giant button for Record/Pause. There's no way, as with QuickVoice, to mistakenly hit the wrong button.

iTalk allows you to append to old recordings. If you have to stop recording for any reason, you go back to it at any time and add more to the end. This eliminates the need for making multiple recordings with names like "Smith Project A," Smith Project B," etc.

iTalk allows you to name the recording before you start, instead of giving it a default name that you have to go back to and change later. A small thing, but it does save time. You can go back and change the name later if you need to.
To transfer a recording to your computer, start iTalk Sync on the computer, then start iTalk on the iPhone. After a bit of searching, iTalk Sync will present a list of the iPhones it's found on the local wifi network. Unless you're at a hotspot where several people are using iTalk, this list will consist of just your iPhone. Double-click on the name of your phone, confirm on your phone that you want it to connect to the computer, and iTalk Sync will then present the list of recordings on the phone.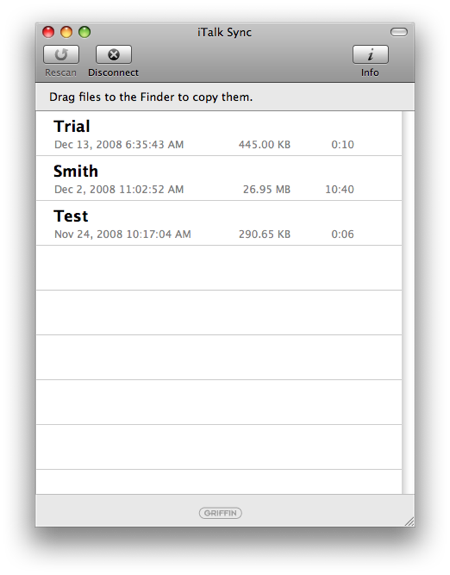 As the on-screen instructions say, drag the recordings you want onto your computer and the transfer will begin. iTalk records in the uncompressed AIFF format, so the transfer may take a while. The advantage of AIFF is that almost any audio application on your computer can read it.
iTalk is hardly perfect. Sometimes iTalk Sync has trouble finding your phone on the network. Stopping iTalk on the phone and restarting it usually fixes this problem, but sometimes I have to restart both applications to get the connection made.
More troublesome is the iTalk UI when looking at the list of recordings on your phone.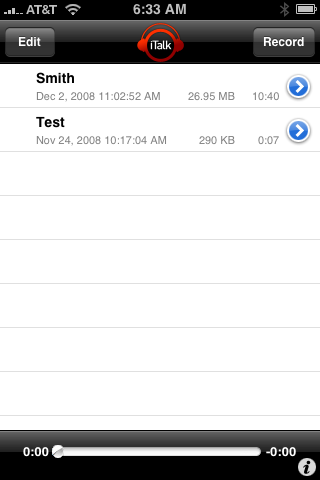 Tapping the little blue arrow to the right of a recording's name is supposed to take you to an info screen for that recording, which tells you the length and file size of the recording and also lets you edit its name. But if you first tap anywhere else in the line, the recording is selected and given a blue background.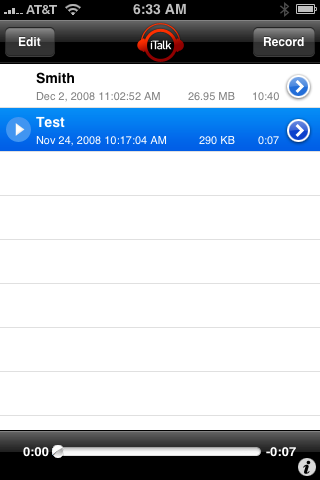 At this point, the arrow at the right end of the selected line becomes very hard to hit. In my experience, almost any tap will start playback of the selected recording. If you want to change a selected recording's name, your best bet is to select another recording first; inexplicably, having the recording deselected makes the arrow easier to tap.
A similar UI problem concerns the slider at the bottom of the screen. You can drag its thumb to play back any part of the recording. Unfortunately, putting your finger on the thumb to start the drag takes very careful aim and usually takes me a few tries before I catch it. At first I thought dragging wasn't allowed. This may be my imagination, but the thumb "target" seems to get smaller as the recording gets longer. I've always have a harder time dragging the thumb on longer recordings.
Fortunately, these two UI problems don't affect me much. I seldom feel the need to rename my recording and even seldomer (!) play back my recordings on the iPhone itself. Overall, iTalk is the best iPhone recording app I've found.